Experience the Distinctive IP-Audio/Video Communication 
 AddPac AP-VP300 Video Phone offers converged Internet-based voice and video communication service. It supports triple VoIP signaling protocols of SIP, H.323 and video codec of H.263, MPEG-4, H.264 along with RCA A/V In/Out interfaces, QoS and public IP sharing features. 
Visualize Your Communication ! 
 Based on AddPac's years of know-how and technological achievement, AP-VP300 embraces cutting-edge video processing technology and various supplementary features. It includes high-resolution color touch-screen display and it also enables to connect external monitors for bigger displays. Powered by 'rate control' for optimized quality and frame rate even with limited bandwidth and high-end 'error resilience' against various packet errors, AP-VP300 realizes state-of-the-art service quality. In case of MPEG-4, it supports max. 30 frames of VGA(640×480) images. 
Keen to New Technology : Firmware Upgradeable Architecture
 Designed on programmable high-performance RISC CPU and 600MHz DSP, AP-VP300 is capable of adopting new capabilities and improvement by downloading firmware from website or with its auto-upgrade option as the customers' needs grow. Moreover, the cutting-edge video codec, H.264 is also implemented on firmware level which is capable of new codec services along with currently supported MPEG-4 and H.263. 
Why 'Audio' Important to Video Communication
 High quality audio determines the perceived quality of video because audio delivers the key part of communication. AddPac AP-VP300 is an advanced video solution with its quality audio. It offers 8 KHz sampling codec of G.XXX series and ensures CD-level stereo audio with its support of MP3 and ogg vorbis*. AP-VP300 delivers unparalleled end-to-end true IP video conferencing service. 
Supplementary Services ; Extending Benefit of IP Communication 
 AP-VP300 addresses not only the needs of fully featured next-generation communication, but also brings various supplementary services to users. It features voice mail, unified messaging service (UMS), On-line memo, Time/Calender, calculator and picture recoding so on. Moreover, by incorporated with in-house broadcasting system, AP-VP300 offers voice and video broadcasting service to any places. 
 Video Solution with Outstanding Network Service Capability
 Not only IP communication, AP-VP300 is an integrated, feature-rich network equipment delivering routing, NAT/PAT, DHCP Server/Relay, Public IP sharing, VRRP and QoS. In today's mixed network of xDSL, Cable, FTTH, Metro Ethernet, Metro ATM, Leased line and dynamic IP environment, not only the ample network service features, but also high-end QoS (Quality of Service) and security features are requested. Based on two (2) 10/100Mbps Fast Ethernet ports, AP-VP300 offers integrated network and security service of LAN-to-LAN routing, bridge and NAT/PAT. Moreover, AP-VP300 supports H.323, SIP signaling protocols concurrently. So the customers easily migrate to different service providers' networks utilizing different VoIP signaling protocols. 
 Audio/Video Privacy Protection
 AP-VP300 brings the network security and service security as well. With the built-in CID (Caller ID Detection) feature, know who is calling before you answer. Turn off audio or video and even activate 'Privacy' menu for complete audio/video privacy protection from the remote control. 
 AddPac Technology's VoIP gateways, ATM routers and WAN routers have been highly appraised with their advanced performance and reliability by worldwide customers. With its years of experience and know-how would make AP-VP300 as the ultimate solution for next-generation video communication.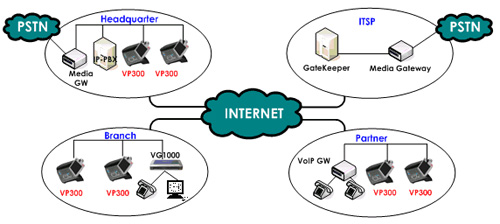 S/W Spec   



CPU

High-end RISC CPU Architecture
Programmable High-performance DSP

Memory

Flash Memory
8Mbyte
Main Memory
64Mbyte
Boot Memory
512Kbyte Flash Memory

Network Interface Module

Fixed LAN0 Port
One(1) 10/100Mbps Fast Ethernet
Fixed LAN1 Port
One(1) 10/100Mbps Fast Ethernet
Console Port
One(1) RS-232C Interface for Controlling
Video Interface
Input
One(1)-Composite(RCA) Connector for External Camera
Output
One(1)-Composite(RCA) Connector for TV or VCR
One(1) S-Video Connector for TV or VCR

Audio Interface

Input
One(1)-3.5mm Stereo-In Connector for Audio In
Output
One(1)-3.5mm Stereo-Out Connector external Speaker
Power & Operation Environments
Power Requirement
External Power VAC 110~220 VAC, 50/60Hz, 5V 5A
Operating Temperature
0°C to + 45°C (32° to 112°F)
Storage Temperature
-40°C ~ +85°C (-40° ~ +185°F)
Relative Humidity
5% ~ 95% (Non-condensing)

Dimension

W x D x H (mm)
283 x 220 x 210
Weight (Kg)
1.5Kg





H/W Spec


LAN Protocol: Static and IEEE 802.1Q VLAN Routing
WAN Protocol: Point-to-Point Protocol (PPPoE for ADSL), DHCP, Static IP, etc.


Video Service
Codec: 

MPEG4, H.263, H.264, JPEG(정지영상)

Resolution: 

QCIF(176x144), CIF(352x288), QVGA(320x240),

 VGA(640x480)

Frame Rate: 

Up to 30fps at 1Mbps with VGA-Resolution (MPEG-4)

Operating Bandwidth: 

64Kbps ~ Several Mbps
Audio Service & Signaling Protoco


 - MP3 for High Quality Stereo Audio : 22.5Khz~44.1Khz Sampling
 - G.711, G.723.1, G.726, G.729, etc.
Network Management
Standard SNMP Agent (MIB v2) Support
Traffic Queuing and Frame-Relay Flow Control
Remote Management using Console, Rlogin, Telnet
Web based Managements using HTTP Server Interface



Security Functions
Standard & Extended IP Access List
Access Control and Data Protections
Enable/Disable for Specific Protocols
Multi-Level User Account Management
Auto-disconnect for Telnet/Console Sessions
PPP User Authentication Supports

 → Password Authentication Protocol(PAP) 




 → Challenge Handshake Authentication Protocol (CHAP)


 Operation &

 Management
System Performance Analysis for Process, CPU, Connection I/F
Configuration Backup & Restore for APOS Managements
Debugging, System Auditing, and Diagnostics Support
System Booting and Auto-rebooting with Watchdog Feature
System Managements with Data Logging
IP Traffic Statistics with Accounting

Other Scalability Features

 → Spanning Tree Bridging Protocol Support

 → Remote Bridging Support

 → Concurrent Routing and Bridging Support

Cisco Style Command Line Interface(CLI)
Network time Protocol(NTP) Support